A message from Archbishop Miller
Dear Parishioner,
"Behold, I am doing something new!" (Isaiah 43:19)
With these words, through the Prophet Isaiah, the Lord communicated a profound message of hope to the Chosen People who had suffered through the destruction of the Temple and the Holy City of Jerusalem.
Like them, we have endured a great upheaval in our life due to the pandemic that has engulfed us.
At this moment in history, the Prophet Isaiah once again announces that our Lord is about to do something new. As we make our way forward, his words fill us with hope.
With God's grace, in the past year the Catholics in the Archdiocese of Vancouver have showed amazing commitment to helping their neighbour. Thank you for this support, which has ensured that we are emerging from the pandemic as a vibrant community of faith and hope.
Our Annual Appeal ensures that these good works will continue, and that the Church's evangelizing mission will be strengthened. As always, once the goal for your parish is met, all additional funds raised will be directed back to parish projects, which will be presented to you this Fall by your Pastor or parish Project Advance team.
I urge you, as the faithful in the Archdiocese of Vancouver, to respond generously to this year's Project Advance Appeal. Together, we are all members of the Body of Christ, and together we will make Our Way Forward.
Sincerely yours in the Risen Christ,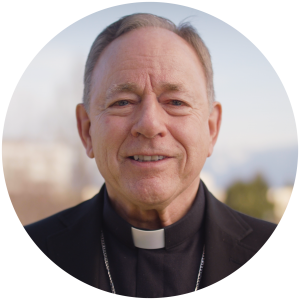 Archbishop J. Michael Miller, CSB
What does my donation fund?
Evangelization Programs – $150,000
Alpha, Discover Discipleship, Catechesis of the Good Shepherd, PREP
Youth and Young Adult Ministry – $150,000
Parish youth and Archdiocesan young adult ministry training and support
Hospital Chaplaincy – $150,000
Pastoral ministry in health care facilities
Family Life Programs – $100,000
Marriage preparation, parenting and marriage enrichment
Social Justice – $150,000
Anti-human trafficking, refugee settlement, migrant farm workers, Door Is Open
Prison Ministry – $100,000
Support for prisoners and former inmates, support for families/victims impacted by crime
Cultural Ministry – $50,000
Ministry for Indigenous, Filipino, Chinese, and Hispanic peoples
Frequently Asked Questions